As the cursor blinks, stuck on the bottom line of your proposal your mind is pacing...
"I wonder what they've paid before?"

"They did say they were speaking to another freelancer"

"I could do with winning this one though"
Foot tapping and with a blank stare you add in a number, then delete it… hurriedly place in another before removing once more, finally deciding on a figure with a sigh.
What happens when that unease and lack of pricing confidence leads to you taking all of the compromise… negotiating weakly on price, scope and deadlines?
"I wish I'd never have taken this project"
Is this it? Is this why income is too
unstable to consider growth?
If you're continuing to trudge with the heavy saddle freelancing brings, putting together a price based on time spent rather than value provided you're going to struggle to maximize your potential as a freelancer, instead feeling like you're just going from project to project unloved and underpaid.
If you're lucky you may catch a regular client who pays on time, at an hourly rate you can live with and who is willing to commit to a set amount of hours per week.
Um, wait... isn't that just a job?
What if you had the confidence to pitch a price three times higher with three times the chance of success?

Guess what, your prospective client doesn't care how long you spend on a project, they just need to know that you'll be able to solve their problem.
Your skills are the route to their beneficial outcome, they aren't hiring you just because you are a designer, writer, coder or marketer, they're hiring you because they have a need and you know how to satisfy it.
What if you could define their problem better than they could though? What if you could describe their beneficial outcome so clearly you'd stand out of the pack as the only person for the job?
If you're the only viable option, price becomes superfluous
What if you could engineer a situation that wiped out the entire freelancer space?
A twist of fate, which made you so valuable that you were the only person for the job? You'd never have to wonder "what are they used to paying" or "someone might undercut me if I price it too high" again as you'd know for certain there were no other options.
Unfortunately you don't have the power to reek apocalypse on your peers but you do have the power to base your price on value and maximise your attractiveness.

Price is what you pay, value is what you get
The truth is, when it comes to pricing as a freelancer it is YOU who controls the perceived value of what you do. When this perceived value impacts your pricing structure it is YOU who controls whether this year will be another 'just okay' year freelancing.
By building a pitch (whether that's a PDF proposal, video call or an in-person chat) that gets inside the mind of your prospect and justifies your cost based on its measure of what value you can bring you'll have everything you need to ensure that you're the only person for the job.
You just have to get confident about pricing and know how to make yours the only proposal that matters, that's why you should attend 'Value Pitch Workshop' from Freelancelift on Monday 26th May 2014.

At Freelancelift we've helped over 4,000 freelancers with our book 'Hourly Rates Don't Matter' but we want to go one step further.
So the 'Value Pitch Workshop' is here to do just that. Designed for freelance designers, writers, marketers and anyone else who is currently stuck swapping time for money.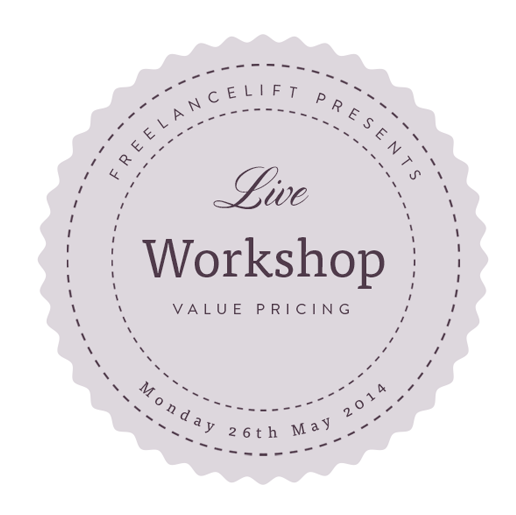 In a nutshell we'll bring years of experience into a unique, LIVE 4 hour workshop where you'll be one of a small group of freelancers turning a real-life brief into a kick-ass value pitch proposal.
We'll work on a live project so we can cut away the theory and fluff and work on specifics. Then you'll have the blueprint framework, tools and templates to do it for yourself over and over again.

Here's how it works
A blueprint for your pre-sales
Prior to the event you'll be given a series of questions to ask during the pre-sales phase. You'll bring the answers to the live, hosted online workshop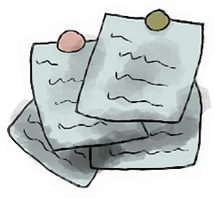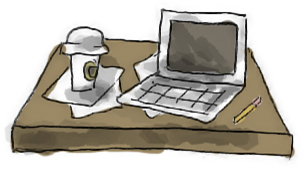 Actionable, live online training
Over the 4 hour training day you'll take part in live video lessons and complete template worksheets. There will be a guest lecture from Ruben Gamez, founder of proposal creation platform Bidsketch.
Build your real-life value pitch
We'll build your killer proposal, working through our step by step format which you can edit directly into Bidsketch as we've included an account, free for 3 months to get you started!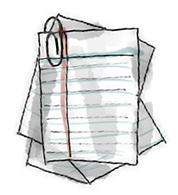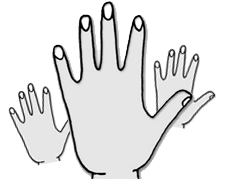 Interact, ask anything, take it away
We'll open up the floor for live Q&A just to ensure everybody is happy their pitch proposal is where it needs to be and you'll have chance to ask questions specific to you
Repeatable, make it stick
You'll then be given the mental tools and motivational preparation for dealing with negotiations and further justifying your cost. The day will then close out with guidance on how you can turn this into your standard way of working.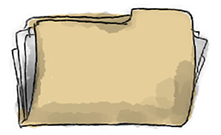 Everything you need to turn theory into practice, with a guarantee you'll be delighted with the outcome.

No-fail pre-sales question sheets
Everything you need to know about pre-pitch dialogue. Understanding the power of client discovery and preparing for the workshop.
Live, group video training
Live lectures with Liam Veitch, former designer and founder of Freelancelift and Ruben Gamez, founder of Bidsketch.
Proposal examples
3 winning proposals, yours to swipe & copy which combined have generated $40k in revenue.
Exercise worksheets
The written material for the exercises completed on the day to ensure you can always retrace your steps, rinse & repeat.
Bidsketch template
A pre-written structure guide for your proposal, which you can plug your own client information into.
3 Months free Bidsketch access
You're going to need a platform for sending the pitch and getting a signature, right? So you'll need access to the platform which we'll cover for 3 months. (Value $87)
Value pricing cheat sheet book
Your little black book of common objections, often you'll get questions about your pricing structure. With this you'll have response ammo.
Accountability email
Once the course is over, you'll get regular dialogue by email to ensure you're putting the guidance into perspective. We want you to make this happen!
Full recordings
You can only take so many notes! So you'll have everything to watch back again, a couple of weeks after the event.
Directors cut of 'Hourly Rates Don't Matter'
This is an exclusive, audio version of the book 'Hourly Rates Don't Matter' to help you absorb it. The book is read through by the author, Liam Veitch and interjected with examples and explanatory content.
Moneyback if you're not 100% happy
We really, really want you to succeed. So much so, if you're not 100% happy this gives you the tools to creating your own value proposal you'll get a 1-2-1 30 minute follow-up call and a 100% refund.
Secure your place for just $89
Your place in this limited training on 26th May will be reserved immediately
---

Who you'll be learning from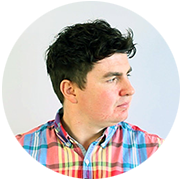 Liam Veitch
Founder, Freelancelift
Liam is an author, speaker and founder at Freelancelift, a community of freelancers serious about growth. After a failure first time round as a freelancer, Liam grew his business into a multi-channel operation delivering $700k lifetime revenue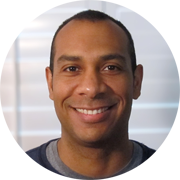 Ruben Gamez
Founder, Bidsketch
Ruben Gamez is the founder of Bidsketch, where freelancers go to create customized, clean proposals in minutes. Ruben has direct experience supporting freelancers create thousands of proposals so have infinite wisdom to share
---

If you can't make this work right now, try the budget option:
There is no substitute for being part of the event, live and ideally you'd be there however if you just can't make this work we're opening up 100 recordings for after the event but act quick!
Proposal examples
3 winning proposals, yours to swipe & copy which combined have generated $40k in revenue.
2 Months free Bidsketch access
You're going to need a platform for sending the pitch and getting a signature, right? So you'll need access to the platform which we'll cover for 3 months. (Value $58)
Full recordings
A copy of the main videos, without the ability to raise your hand and directly get involved
Buy now for just $49
You'll be sent your files 2 weeks after the event
---

The focus of this workshop is taking action, not just absorbing more information
You have a great opportunity to overcome your pricing unease and confidently quote a rate which is beyond what you'd otherwise have been comfortable with. This is for you if you're looking for practical guidance rather than just theory on raising your rate by billing on value. Over just four hours we'll cover:
How to create a winning proposal, for any freelance skill
Capturing attention and intrigue with pre-sales questioning
Reverse-engineering other winning value proposals
Understanding how to justify your higher rate
Ensuring you're the only freelancer for the job
How to conquer the urge to drop your rate
Offering options and recurring services to boost total cost

If you don't feel completely at ease adding double the entry fee to your next proposal we'll send you a full refund
Attendance is just $89, or you can lock in your replays once the event is over for just $49. Afterwards you'll have all of the tools you need to make value billing work, or you don't pay

Replay Videos
$49
A budget option for making it work
Proposal examples & template
2 months free Bidsketch access
Full recordings
Live Attendee
$89
Take the training, live in person
No-fail pre-sales question sheets
Live, group video training
Proposal examples & template
Exercise worksheets
Bidsketch template
3 months free Bidsketch access
Value pricing cheat sheet book
Accountability email
Full recordings
Directors cut of 'Hourly Rates Don't Matter'
---
I have a question
Are you going to run this workshop again, I can't make this date. Will it be recorded?
If there's a possibility you can make this date try to make it happen. The real lure of the Bootcamp is more than 4 hours of live practice / review time with us... plus we can answer questions within the live video lessons.

If you absolutely, positively cannot make it opt for the recordings package and if we run the workshop again some time in the future we'll knock the $49 off your ticket cost
When exactly do I need to be available to attend the bootcamp?
You need to be available from 11 am - 3 pm EST (adjust for your time zone) on Monday 26th May 2014
What if I don't like it
The course is designed to be as inclusive and value packed as humanly possible, but if you're not delighted with the outcome just let us know after the event and we'll issue a full refund
So the worst case scenario is you have given it a try, you have a handful of free content and it hasn't cost you 1 cent. In the best case scenario however you absorb and implement the training and now have a killer format for creating proposals that sell
Which package should I buy?
That mostly depends on your budget and availability. There is no substitute for attending, live as you'll have the unique opportunity to ask questions live. But if budgets are tight you'll still get some value from the recordings, you can follow along with all the exercises
Where will the bootcamp take place?
The workshop is held entirely online. You just need a computer with a fast internet connection and a modern browser. Appearing on camera is optional, so you can choose depending on the severity of your bad hair day!
Will this work for [insert freelance speciality here]
Sure. The workshop is designed to align with your sales process regardless whether you're a designer, developer, writer, coder or magician (extra points if you're all of the above)
You didn't answer my question.
If you still have questions simply email [email protected] and we'll hit you back personally
---

The focus of this workshop is taking action, not just absorbing more information
You have a great opportunity to overcome your pricing unease and confidently quote a rate which is beyond what you'd otherwise have been comfortable with. This is for you if you're looking for practical guidance rather than just theory on raising your rate by billing on value. Over just four hours we'll cover:
How to create a winning proposal, for any freelance skill
Capturing attention and intrigue with pre-sales questioning
Reverse-engineering other winning value proposals
Understanding how to justify your higher rate
Ensuring you're the only freelancer for the job
How to conquer the urge to drop your rate
Offering options and recurring services to boost total cost

If you don't feel completely at ease adding double the entry fee to your next proposal we'll send you a full refund
Attendance is just $89, or you can lock in your replays once the event is over for just $49. Afterwards you'll have all of the tools you need to make value billing work, or you don't pay

Replay Videos
$49
A budget option for making it work
Proposal examples & template
2 months free Bidsketch access
Full recordings
Live Attendee
$89
Take the training, live in person
No-fail pre-sales question sheets
Live, group video training
Proposal examples & template
Exercise worksheets
Bidsketch template
3 months free Bidsketch access
Value pricing cheat sheet book
Accountability email
Full recordings
Directors cut of 'Hourly Rates Don't Matter'