I have a hunch, which is slowly being confirmed. That as freelancers we do what we can to build a website for our services which looks pretty and which we think might deliver us leads for our service, without changing anything when it doesn't.
That is to say, aesthetics come first, livelihood comes second. When you frame it like that it seems a little upside down, no? My theory is that big business understands copywriting (more accurately, they understand the direct link between clearly explaining their product or service and the leads or 'conversions' this achieves) and so should you.
So I wanted to get someone more qualified than I to put forward an argument for taking copywriting seriously. Even if you do not consider writing a strength it's imperative that the words you use on your site work with you rather than against you when it comes to generating leads from your website. In doing so you'll become less reliant on freelancer exchanges and other 'outbound' channels for work.
D Bnonn Tennant is a master copywriter and founder at Information Highwayman. If you know anything about him you'll be familiar with his 'pull no punches' style. Here is a distilled takeaway version of this conversation.
> Find out more about D Bnonn at informationhighwayman.com
Writing doesn't have to be hard, just talk to 'Sam'
This was a key point in the book 'Stop Thinking Like a Freelancer'; the notion that words are incredibly important, yet dramatically under-utilized.
We talked at length about shaking off all the vague demographics of your ideal client and instead looking to humanize them and their worldview.
Bnonn sums this up as:
"What are you going to say verbally to Sam, given what he's currently thinking? Then what are you going to follow that up with to get him to stick around?"
He even advocates explaining your service verbally, recording with a microphone to listen back and pull out the most impactful elements in order that you can create a more conversational message that fills in the three key areas each page:
Headline
An implied promise, of around 10 words in a language that your own version of 'Sam' understands and resonates with.
Body
A walkthrough of the main elements of your message, how might life be different? How have you done this for others?
Call to action
If you absolutely have to, this could be an invitation to get in touch but ideally it would be a no brainer opportunity to start a relationship with as little friction as possible.
For example there is almost always some nugget of information your dream client is looking for, the missing piece of the puzzle which is holding them back from making a buying decision. Could you fill in the blanks for them in a short PDF ebook? That way you can request their email address in exchange and continue this 'arms length' dialogue, gradually warming them up to you as a potential partner.
Good copy is not necessarily long copy
One of the reasons most designers avoid long form "sales letter" style is the cumbersome nature of its length. So it's easy to dismiss this style as unsuitable for modern design (and for the most part, I agree).
I counteract this by imagining the same message, chopped into smaller, more manageable chunks.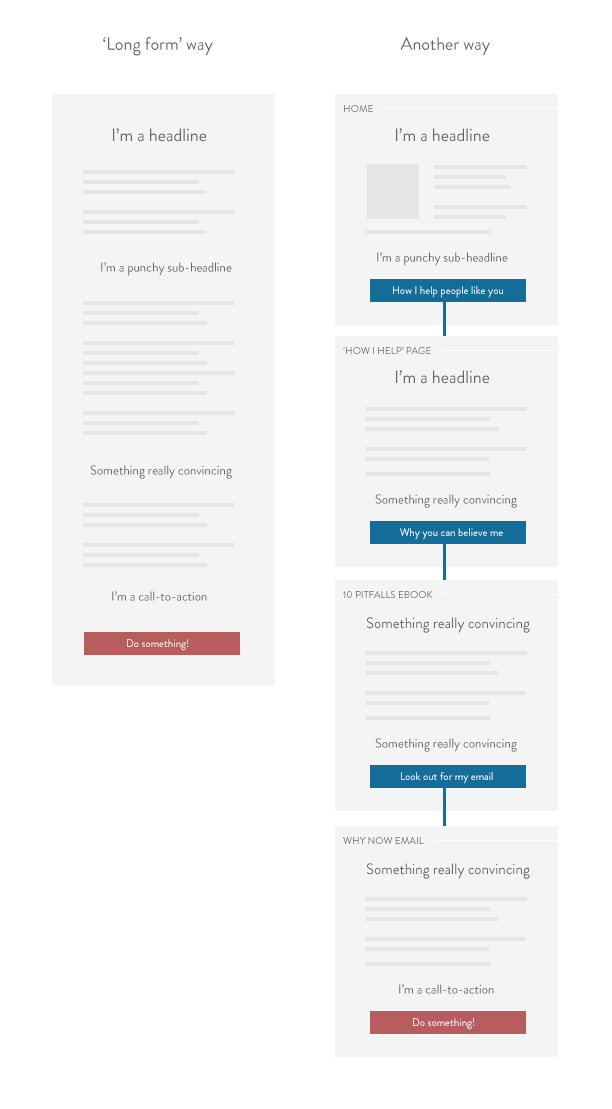 A homepage opening out your story or message could link through to a 'How I make an impact' page, which in turn could segue way into the topic for an ebook opt-in. Your PDF ebook could then be sent along with a series of emails, all of which combine to tell your story in such a way to inspire the 'aha moment' that'll be required for your prospect to take action.
After perfecting your copy, how will you get more eyeballs?
D Bnonn speaks my language when it comes to improving that all import metric, attention. Indeed, you can find Bnonn's work on Smashing Magazine, Unbounce.com, KissMetrics and more.
Guess who hangs out on these channels? That's right, his own embodiment of 'Sam'. Tennant is targeting entrepreneurs in the marketing / technology space and in these appearances he becomes a blip on their radar. I've put together a quick roundup of the things you should be doing to amplify your online voice, but to summarize, your job as a freelancer is to leave key elements
Your job as a freelancer is to scatter what I refer to as 'breadcrumbs' around the corners of the web your dream client hangs out for 'Sam' to pick up and follow back to you and your web presence.
In closing
This was a highlights post for the Q&A call which I recommend you listen to in full, but to summarize you should get deliberate about the way you describe your services, remembering that you are not being hired because you can write, design or code. You're being hired because your client has a pain in their business life, which they believe your service can remedy.
If you can lay out a vivid understanding of your client's pain and convince them that you have remedied this before and can do the same for them you're on the right track to making something really beneficial from your website. Something that contributes to lead generation rather than working against it.
> Special thanks to my guest on the Q&A D Bnonn Tennant, whom you can learn more about at informationhighwayman.com
Learn anything? Please share
When you're held ransom by client work and income instability how are you supposed to find time to work on "growth" (whatever that means).
Make freelancing more stable
Repel 'bad apple' clients
Beat "treading water" cycles
Multiply online exposure
Get your copy +
Exclusively on Amazon